Enhancing your Child's Creativity
Learning with Traditional values
Toddlers, Primary & Elementary Communities
Bodhana Montessori House of Children, a complete Montessori school at Velachery, Chennai, provides toddler, primary and elementary environment. At Bodhana, we stay faithful to Dr. Montessori's deeply thoughtful pedagogy to meet the needs of children from 18 months to 11 years (Until Class V). Montessori techniques have persistently been proven to be the best methods of teaching that gives children the independence, responsibility, self-discipline, initiative, leadership, strong academics and Lifetime Love for Learning.
At Bodhana we strive at bringing the right mix of various aspects involving self-development, connection with nature, concerns for a child, a strong value system and academic excellence.
Toddler Community
In Toddler Community, We offer a small group experience for children 18 months to 3 years, who are encouraged to explore their interests in a peaceful home environment, prepared with inviting and challenging materials.
Primary Community
Primary class is a mixed age grouping of 3 years to 6 years children based on Maria Montessori's philosophy of a multi-age educational society. The child's social, emotional, physical and intellectual growth is fostered and supported.
Elementary Community
Elementary is a mixed age grouping of 6 to 11 year-old children. They become intellectual in nature and begin to move from concrete to abstract reasoning. They develop morality and imagination based on the reality they know.
About
"The child is both a hope and a promise for mankind." – Dr. Maria Montessori
"We are proud & happy to announce that Bodhana Montessori House of Children has been chosen as Most Promising & Trusted Montessori of the year 2022, Tamil Nadu by EduAwards India"
From a modest beginning in 2012, the school has grown along with its children, to provide elementary environment from 2016. Bodhana was started as an answer to the needs of young parents looking for an alternate meaningful education. Decisions about every aspect of school management are deeply questioned and considered taking into account foremost the needs of a child that brought out to the development of teachers, participation of the parents and inclusion of the immediate community.
In a true Montessori way, the School provides the children a carefully prepared environment where they can work for their own development listening to their inner needs, fostering their natural learning desire and developing independence in every area they venture.
Bodhana has a passionate team of Montessori adults who completely believes in the potential of every child.
                  Uma Sankaran                 Founder & Principal
                  Prashanthi Poosarla          Elementary Program Director
                  Krithika Ravi                Primary & Elementary Directress
                  Gayatri Jayaraman            Elementary Directress
                  Anuradha Parthiban           Elementary Directress
                  Sathiya Priya A              Tamil Directress
                  Sharada H                    Hindi Directress
                  Haritha T                    Primary Directress
                  Padmapriya K                 Primary Directress
                  Aarifa                       Primary Directress
                  Azhagu Kasini                Primary Directress
                  Lakshmi                      Toddler Directress
                  B Jayabharathy               Associate - Administration
                  Suriya Kala R                Associate - Administration
Communities
Toddlers, Primary & Elementary
In Toddler Community, We offer a small group experience for children 18 months to 3 years, who are encouraged to explore their interests in a peaceful home environment, prepared with inviting and challenging materials.
The toddler community is a very important class, especially as this may be the first school experience. This is a delicate class as much personal and developmental growth is happening to these young children.
The classroom is a rich educational setting, filled with hands-on activities for this critical age of development.
We emphasize art, music, practical life, language, gardening and creative free play. Our beautiful outdoor area offers opportunities for gross motor development.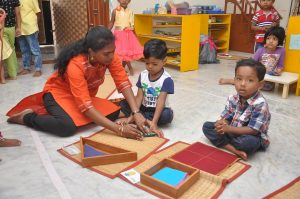 Primary class is a mixed age grouping of 3 years to 6 years children based on Maria Montessori's philosophy of a multi-age educational society.
There is a "gallant dignity" within children of this age. When they are nurtured, treated gently, and consistently challenged they retain this dignity into adulthood.
The child's social, emotional, physical and intellectual growth is fostered and supported.
The Whole Child is Served.
Social: Grace and Courtesy lessons help with the development of compassion, respect and helpfulness. Children become cooperative members of the classroom community.
Emotional: Children gain a sense of competence and experience self-respect as they master new skills. They make choices and practice appropriate and effective communication.
Physical: Specially designed materials and lessons help children develop fine and large motor control, and coordination.
Intellectual: Lessons and materials promote independence, concentration, and academic development. Children work with lessons that include Language, Mathematics, Geography, Science and Art.
Elementary is a mixed age grouping of 6 to 11 year-old children. They become intellectual in nature and begin to move from concrete to abstract reasoning. They develop morality and imagination based on the reality they know. They acquire knowledge and information effortlessly because of their innate passion for learning.
They learn through discovery and creative problem solving. It is through the child's own exploration, imagination and creativity that concepts are understood and mastered. Children have different areas of work that includes languages (English, Tamil and Hindi), history, geography, physical science, biology, arithmetic, geometry, algebra, arts & crafts, music & myth, Physical education.
F.A.Q
All the answers you want
Q1. What is the Montessori Method of education?
Ans.: This system of education is both a philosophy of child development and a rationale for guiding such growth. It is based on two important developmental needs of children:
The need for freedom within limits
A carefully prepared environment which guarantees exposure to materials and experiences.
Through these developmental needs, the child develops intelligence as well as physical and psychological abilities. The Montessori method of education is designed to take full advantage of the children's desire to learn and their unique ability to develop their own capabilities. Children need adults to expose them to the possibilities of their lives, but the children must determine their response to all the possibilities.
Q2. What is the purpose of the Montessori Method?
Ans.: Primarily, the purpose of the Montessori method is to provide an environment where the innate abilities of the child can unfold spontaneously, encouraging the development of the person within, allowing the child to achieve his greatest potential. Maria Montessori stated, "the child is the father of the man." As the child develops his inner self, a love of life and learning follows naturally.
Q3. When should I start my child in Montessori?
Ans.: The abilities of young children at two and three years old are really amazing. In Montessori environments, Children are able to absorb concrete materials using all their senses simultaneously, a unique ability soon lost. This period of special absorption is called "Sensitive Periods". As the child grows, these periods change, yet the continuum is set in motion for the rest of the child's life. Therefore, the early years are the most important, yet most neglected in many societies. Starting a child at 2 1/2 in a good Montessori environment with well-trained directresses can have results that will remain with the child all her life. Still, Montessori for toddlers(1 ½ to 2 ½ years) will help the child gain more fine and gross motor skills and prepare them for the sensitive period effectively.
Q4. What is the difference between Montessori and traditional education?
Ans.: Montessori emphasizes learning through all five senses, not just through listening, watching, or reading. Children in Montessori classes learn at their own, individual pace and according to their own choice of activities from hundreds of possibilities with materials that have been introduced to them 1:1 by the teacher who knows what each child is ready to do. Learning is an exciting process of discovery, leading to concentration, motivation, self-discipline, and a love of learning. Montessori classes place children in three-year age groups (3-6, 6-9, 9-12, and so on), forming communities in which the older children spontaneously share their knowledge with the younger ones. Montessori represents an entirely different approach to education.
Q5. Where are the rows of desks? Where does the teacher stand?
Ans.: The different arrangement of a Montessori classroom mirrors the Montessori methods differences from traditional education. Rather than putting the teacher at the focal point of the class, with children dependent on her for information and activity, the classroom shows a literally child-centered approach. Children work at tables or on floor mats where they can spread out their materials, and the teacher circulates about the room, giving lessons or resolving issues as they arise
Q6. Why does Montessori have multi-age classrooms?
Ans.: 
Montessori classes are set up to encompass a three or four-year age span. This allows younger students the inspiration of older children, who in turn benefit from serving as role models. Each child learns at her own pace and will be ready for any given lesson in her own time, not on the teacher's schedule of lessons. In a mixed-age class, children can always find peers who are working at their current level.
Children ideally and typically stay in the same class for three years; with two-thirds of the class normally coming back each year, so the classroom culture remains quite stable.Because a child remains in one classroom for three years he/she develops a strong sense of community with classmates and teachers. The age range also allows especially gifted children the stimulation of intellectual peers, without requiring that they skip a grade or feel emotionally out of place.
Q7. What Do Mixed Age Groups Bring to Montessori?
Ans.: Interaction: The mixed age group environment creates an atmosphere where children learn to help and be helped by other children, because they interact consistently with children whose age and abilities are varied. Children gain an appreciation for their achievement and the accomplishments of others, and are naturally challenged by the achievements of others.
Learning from Each Other: Older children learn to be patient and tolerant, and serve as role models and teachers for the younger children. When an older child teaches a younger one, it reinforces previously learned concepts and is actually an aid in complete mastery of concepts. Younger children learn about courtesy, manners, and conflict resolution by watching the older children in the class.
Work at Child's Own Pace: Because teachers do not have to set the instruction pace by a whole group, each child is given the ability to learn at his or her own pace. This is a striking difference from traditional education, where everyone turns to page 33 of the book and stays there until every child understands the concept.
Community: By staying in a classroom for a three year period, children develop a strong sense of community and stability, with 2/3 of a class returning every year. This community aids the development of students as role models for one another.
Familiarity: Being in the same classroom year after year allows a teacher to truly learn each individual child's learning abilities, style, and developmental level to better be able to set the learning agenda as well as build on strengths and work on weaknesses.
Q8. If children are free to choose their own work, how do you ensure that they receive a well rounded education?
Ans.: Montessori children are free to choose within limits, and have only as much freedom as they can handle with appropriate responsibility. The directress ensure that children do not interfere with each other, and that each child is progressing at her appropriate ace in all subject. For every child there will be a weekly and term plan set out by the directress and will be closely followed for the complete development of the child in every aspect.
Q9. Is Montessori only for certain types of children?
Ans.: The Montessori Method of education is not directed at any particular type of child. In fact, Montessori is advantageous for many different styles of learning. Some children learn better by touching, some by listening, and some by doing: there are many ways children become successful in a Montessori classroom. It is been applied and proven successful in wide range of cultures.
Q10. How do older students who transfer into Montessori classes adjust?
Ans.: Some Montessori schools do not allow older students to enter their classes. Most give priority to transferring students from their own or other Montessori schools. Adjustment into Montessori classes depends upon the child, his prior educational experience, innate flexibility, and attitudes toward learning and school. They frequently enter with heightened enthusiasm for the "games" encountered. As they adjust to the more subtle structure of the classroom and their own responsibility for their learning, they usually go through a period of trying the limits. It is not unusual for students entering from more traditional education to want to do everything in the room the first week. The idea of touching, handling, and talking as they work tends to, at first, be over stimulating for some, while intimidating for others. It usually takes 6 weeks to 6 months for students to integrate into the classroom. Once adjusted, however, students who have experienced another form of education can positively engage their peers in introspective observations.
Q11. What happens when my child leaves Montessori?
Ans.: This is the most frequently asked question of most people seeking information regarding Montessori learning. Changing from one environment to another takes self-confidence and patience. Different children respond differently to change. Most children adjust well to the transfer from Montessori to other private or public schools when their self esteems are high. Statistically, those who are in Montessori classrooms longest tend to make the adjustment more smoothly. They usually enter their new environments with a positive, flexible confidence following their experience with, and nurturing of, a real love of learning. The skills that they have learned from being in Montessori classroom completely outweigh the problems that they encounter when they first make the transition to a traditional school.
Q12. No textbooks, no grades! Explain this to me because it does not make any sense!
Ans.: Montessorians see text books as limiting. We teach them the concepts through manipulating objects, colour, movement, matching, comparing, researching and so on. We feel that simply going to a text book for information doesn't teach a child how to learn. But a child who is taught to use the library, the internet, newspapers, as well as to gather information from their surroundings, use prior knowledge, analyze and extrapolate will.
As far as grades go, in Montessori we work towards mastery- the complete understanding of a concept. In a grade focused classroom people often work on learning tricks to pass the test. A Child's progress is not dictated by a textbook or a grade level, but by their own innate ability.
Q13. How will my child settle into traditional school class VI after Montessori elementary?
At the end of the Montessori elementary program, your 11 year old is ready for a very important transition: His elementary years have given him the freedom to develop as a unique individual. He has experienced the challenges and rewards of working with a group of other children of different ages and has seen his skills and talents put to use in many group projects. He has developed proficiency in all areas of academic endeavours and looks forward to the new opportunities beyond Montessori elementary. Above all, he is flexible and adaptable. Also Elementary curriculum academically meets all the aspects of learning in a child growth for his age. These skills, the culmination of the 5 year Montessori elementary program, will help him to easily assimilate into new academic and social situations in high school, college and beyond.
About Montessori
Born in Italy in 1870, Dr. Maria Montessori was a remarkable educator whose insights remain profound. She believed each child is a secret which is gradually revealed as he/she develops. Maria Montessori was adamant that intelligence blossoms when imagination is sparkled.
Maria and Montessori believed that "no human being is educated by another person. He must do it himself or it will never be done. A truly educated individual continues to learn long after he leaves the classroom because he is motivated from within by natural curiosity and love for knowledge"
Montessori began to develop her philosophy and methods in 1897, attending courses in pedagogy at the University of Rome and reading the educational theory of the previous two hundred years. In 1907, she opened her first classroom, the Casa dei Bambini, or Children's House, in a tenement building in Rome. From the beginning, Montessori based her work on her observations of children and experimentation with the environment, materials, and lessons available to them. She frequently referred to her work as "scientific pedagogy".
Through her initial work with handicapped and socially deprived children, she began to develop her unique educational philosophy. As a result of her further study, observation, and experimentation, she found the principles of her method to be applicable to all children.
At Bodhana we give children an opportunity and tools to explore by doing it themselves. They will discover the power of word, find the magic of numbers and see the significance of relationships and also the subject's science, art and world culture.
Our children will learn to think and reason, learn to respect and love to learn not as a task but as a journey.
Our goal is not to fill the child with facts from a preselected course of studies but rather to cultivate his/her own desire to learn.
At Bodhana, we follow authentic Montessori Program with all the tenets respected and holistically applied.
The Montessori Method of education, developed by Dr. Maria Montessori, is a child-centered educational approach based on the scientific observations of children from birth to adulthood. Dr. Montessori's Method has been time tested, with over 100 years of success in diverse cultures throughout the world.
It is a view of the child as one who is naturally eager for knowledge and capable of initiating learning in a supportive, thoughtfully prepared learning environment. It is an approach that values the human spirit and children's physical, social, emotional, cognitive development.
Montessori education is not a system of teaching but a method of guiding children in the total development of their personalities and enhancing key periods of their growth and learning.
"Enjoyment", "Happiness", "Empowerment" are the words we hear only in Montessori House of Children. It is not what the teacher does or what the school provides….it is what the child experiences at the end.
"Montessori education is a brain based, developmental method that allows children to make creative choices in discovering people, places and knowledge of the world."
-Dr. Steven Hughes, Ph.D, President, American Academy of Pediatric Neuropsychology
Montessori schools begin with a deep respect for children as individuals. They work with a deep concern for their social and emotional development.
Montessori classes brings together children of multi-age levels. This allows teachers to have close and long term relationship with the child while also understanding his learning style. This encourages learning from each other. Older children learn to be patient and tolerant and serve as a role model for the younger ones. Also when they help the younger ones, it reinforces his previously learned concepts and will aid them to gain mastery over the concepts.
The environment is arranged according to subject area, and children are always free to move around the room instead of staying at desks. There is no time limit as to how long a child can work with a piece of material. The subject area includes Practical Life Exercises, Sensorial, Arithmetic, Language, Science, Geography, Art, Music, etc.
There are self-correcting materials within the environment. The materials are designed so that the children learn through their own errors to make the correct decision as well as a guide point it out to them.
There is an emphasis on concrete learning and progressive abstract thinking. Children need to experience concepts in concrete "hands on" ways so that they make their own leaps to abstraction.
The environment is "prepared" for the children. Everything in the room has a specific place on the shelf. Children are orderly by nature and having the room set this way allows them to grow in a very positive way.
There are no papers turned back with red marks and corrections. Instead the child's effort and work is respected as it is. The teacher, through extensive observation and record-keeping, plans individual projects to enable each child to learn what he needs in order to improve.
There are no grades, or other forms of reward or punishment, subtle or overt. Assessment is by portfolio, teacher's observation and record keeping. The test of whether or not the system is working lies in the accomplishment and behaviour of the children, their happiness, maturity, kindness, love of learning and level of work.
Education of character is considered equally with academic education, children learning to take care of themselves, their environment, each other – cooking, cleaning, building, gardening, moving gracefully, speaking politely, being considerate and helpful, doing social work in the community, etc.
Montessori Method emphasizes learning through all five senses, not just through listening, watching, or reading for 0 – 6 year children.
For e.g., Alphabets are introduced through Sand Paper letter – to feel and remember the shape and phonetics of different letters.
Numbers are introduced through Number rods to understand them through their quantity.
Number system is introduced through beads – they feel the shape and size of the material to understand the number.
Elementary is a mixed age grouping of 6 to 11 year-old children. They become intellectual in nature and begin to move from concrete to abstract reasoning. They develop morality and imagination based on the reality they know. They acquire knowledge and information effortlessly because of their innate passion for learning. They learn through discovery and creative problem solving. It is through the child's own exploration, imagination and creativity that concepts are understood and mastered. Children have different areas of work that includes languages (English, Tamil and Hindi), history, geography, physical science, biology, arithmetic, geometry, algebra, arts & crafts, music & myth, Physical education.
He is entering a new period in his life; this imaginative, social, creative child needs a planned environment and expansive course of study to support his burgeoning independence and potential. The Montessori Elementary program, for children between the ages of six and twelve, is designed to meet the needs of your child in this phase of development. This experience will shape not only his knowledge and skills, but also his attitude about learning for the rest of his life.
The Montessori elementary is built on the foundations of the primary.

The elementary classroom environment is beautifully and thoughtfully prepared to support independent learning; it is child-centered, not adult-centered. There is access to the outdoors and the kinds of learning that can only take place in nature.

The elementary "curriculum" is only limited by a child's imagination

The goal of a traditional curriculum is to delineate what a child is supposed to learn. In Montessori, we want your child to be able to learn everything! The starting point for all courses of study is the "Great Lessons"; these impressionistic and scientific stories are presented every year and give the students the "big picture" of cosmology, astronomy, earth science, geography, chemistry, physics, biology, history, anthropology, cultural and social studies, language, math, music, and art. Subsequent lessons offer the children keys for exploring these areas of human knowledge in more detail. The lessons are starting points for your child's own activity. Meaningful learning happens when children are inspired by a lesson and begin to explore the subject and work on their own,

Children work collaboratively and cooperatively.

Elementary children have a strong drive to be social and to collaborate. For this reason, most of the lessons and follow-up projects in elementary are done in pairs or groups of children. Each day, your child will practice the social skills necessary to plan and carry out his projects: delegation and division of labor, sharing resources, making group decisions, taking responsibility for actions, and celebrating the success of peers. Conflict is not uncommon, but the motivation to resolve it comes from the children and their engagement with their projects. The Montessori teacher models and supports constructive and respectful problem solving.

The classroom is designed to nurture imagination and reason.

Elementary age students are naturally curious and have a strong internal drive to discover how our world works. They may ask, "How does a fish breathe under water?" "What number comes after a trillion?" "What causes a volcano to erupt?" Instead of simply giving them the correct answers, Montessori elementary teachers ask the right questions; they tell stories to inspire the children's imagination and tantalize them to explore on their own to find out more: about volcanoes and dinosaurs and Monet and gladiators and poppies and skateboards and butter churning and cheetahs and – there is no limit! Driven by their passions, the children are open to the input from the teacher that refines their reading, writing, reasoning, and research skills. Designing our elementary program around the children's natural cognitive abilities means that our focus is less on the facts and concepts we teach and more on what the children learn and how they learn it

The children's work is open-ended and creative.

Each child's response to a lesson is unique, and their follow up work reflects those individual differences. Your child is free to form or join a group to work with the concepts introduced in a lesson. For example, a group of children might have a lesson on the parts of a river. Some might choose to label an outline map with the rivers of India. Others might choose to repeat the demonstration with the river model (and without the teacher), labeling for themselves the parts previously demonstrated. Another pair might be intrigued by a particular river mentioned in the lesson or by the river running through their city, and they might launch a research project about the Ganges or the Cauvery. Because the children are free to move around the classroom and see what others are doing, it's not uncommon for an idea to spread; children are stimulated not just by the teacher's lessons, but by each other.

The children are empowered to seek knowledge beyond the classroom.

An important component of the elementary program is what we call "Going Out." Going Out occurs for a group of children when exploration of a topic exhausts the resources of the classroom. We want the children to be comfortable navigating the world, not just our classrooms. So, we have a few excellent books, but not everything there is to read about a topic. We have many evocative art and construction materials, but probably not the one perfect thing that a group of children need to build their model. As a result, the children must "go out" beyond the limits of the classroom to find the information or resource that they need.
A Going Out is a planned undertaking by a small group of children. They find a resource in the community, schedule the outing, arrange for their own transportation and supervision (by staff or parent volunteers), prepare themselves for the experience, conduct themselves with dignity while out in public, and return to share their research with the rest of the class. Each Going Out is an entire course of study on independence, responsibility, and good citizenship —to say nothing of the intellectual rewards that children get from such experience. Montessori elementary children go out to the public library, to museums, to farms, to local businesses and public service institutions. They visit other schools and consult with experts. They attend plays, ballets, concerts, public lectures, tours, and other civic offerings. They spend time outside, having direct experiences with the natural world. Montessori children might go out occasionally or often, but the experiences are always deeply personal and memorable.
Testimonials
WHAT PARENTS SAY ABOUT US
Teachers are having very good knoweldge on Montessori.
- Jegan Bhaskaran
My daughters goes to this school and absolutely loves it.
- Gopal Rajagopal
My son who is all of 7 has pleasant memories relating to his first school Bodhana. He still cherishes the songs sung at school and though not a part of the school now, he has never missed a chance to identify and relate to his teachers, akka and memories attached to Bodhana.
- Vasudevan Santhanakrishnan
If you are looking to provide your kid a 100% montessori experience, Bodhana is the place to be in.
- Padma Subramanian
Admission Process
Admissions at Bodhana happen seamlessly for the term beginning June, September and January for the toddlers, primary and the elementary community.
Children between 18 months – 3 years of age qualify the spectrum of   Toddlers community.
 Children between 3 – 6 years of age qualify the spectrum of primary community and
Children between 6 – 11 years of age qualify for the elementary community.
Parents seeking admissions for their children may approach the school beforehand through mediums of an enquiry through website/ email and/or a phone call. Please take an appointment for school visit to understand the Montessori Method and school. Admission for a child is confirmed based on the details furnished by the parents about the child, the availability of an opening for a particular age group and the inputs received from the child observation.
Parents may contact: 044 – 22591699/9940327479/9840884533/ email us at: bodhanahoc@gmail.com to enquire about admissions.
Just before the onset of the pandemic restrictions in Mar 2020, we had a memorable trip to a farm with our older elementary children. Though we have had many night stay experiences earlier at the Bodhana campus itself, this is the first time we took our children for an overnight trip outside the campus. We were equally thrilled like our children. We stayed on an organic farm and had a complete farmer's day experience doing all chores from ploughing, waste segregation, preparation of organic compost as well vermicompost, pot mixture preparation, planting Herbs and vegetables, taking care of the cattle and their shed, tried their hands on milking the cow. The interest that children had in doing these activities is commendable. Though some children had a little hesitation, in the beginning, they all tried the activities. It would be more apt if you hear from the children about the experiences they had. Here you go. Milking Cow: "It felt like jelly" – Layaa "the thingy was like rubber" – Aarjith "It was more like kneading slime" – Johanna "I was so shy and afraid. I didn't milk however saw some of my friends milking" – Ajitesh Waste segregation and Vermicompost: "Enjoyed the waste segregation the most but didn't like touching the cow dung at all." – Aarjith "I took the compost part which had earthworms and used for planting" – Sricharan " I was so thrilled to do vermicomposting though he was not comfortable handling waste segregation and cow dung" – Pranav A Handling Goats: "Enjoyed handling goats – I really liked it because the goat I took was... read more
Contact us
Visit us (on prior appointment) or Drop a Line
Bodhana Montessori House of Children,
Toddler and Primary Block
No #11, Officer Colony,
Vijaya Nagar, Velachery,
Chennai – 600 042
Tamilnadu, India
Elementary Block
No #12, II Cross Street,
Srinivasa Nagar Extn, Velachery,
Chennai – 600 042
Tamilnadu, India
☎ : +91 44 2259 1699
✆ : + 91 99403 27479